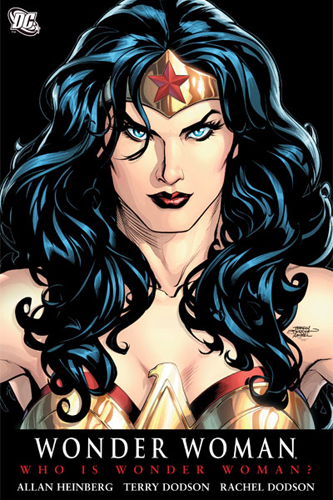 Every so often readers (and writers) comment on problems they have with the comic book character Wonder Woman.
The Amazon princess, Diana, was created in 1941, by William Moulton Marston.  On the heels of the appearances of superheroes like Superman and Batman, Marston felt that girls deserved their won role model.  His creation was beautiful and strong, and carried the Lasso of Truth.  Detecting truth was a matter of interest to Marston, as he invented the polygraph, popularly known as the "lie detector."
Wonder Woman has a number of contradictions attached to her — she is a warrior and yet she is also an ambassador of peace from the Amazons to "Man's World."  Try as they might to downplay the incongruity of a warrior society such as that of the Amazons also purporting to be more peaceful than the rest of humanity, writers have been stuck with it.  It just will not be shaken off.  Recent writers have shown the Amazons as less than perfect in their adherence to peace.  Yet, "warrior for peace" remains an element in the character of Princess Diana.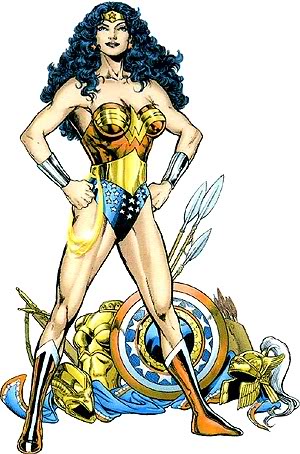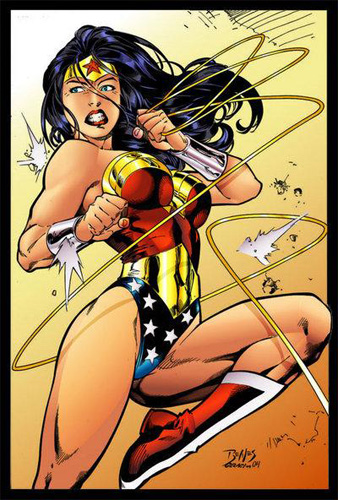 The Lasso of Truth also forces an unusual quality upon the nature of Wonder Woman.  By using it, Diana can force a perpetrator to face aspects of his or her own nature that they have been denying.  Even if she doesn't use this power, its presence with her is a constant reminder of what she could do.  It bestows a certain implacability to her character.
Molded in clay by her mother, Queen Hippolyta, given life and powers (strength, flight, and apparently immortality) by the Greek gods, Diana is in her origin somewhat removed from normal humanity.  And yet she is not really a goddess (although one writer did have her become the Goddess of Truth for a time).
However it came about, there is something in the nature of Wonder Woman that defies easy pigeon-holing.
She won't be easily pegged and yet, readers do have a sense when she's being taken off track, when she is "out of character."  She is caring and merciful, and yet if she goes too far into emotional territory, something feels "off."  She's passionate about her family and protecting those under her care, but romance inevitably seems unbalanced when brought into proximity with the Amazon princess.  (It might be that readers feel she has no peer, so that all possible romantic partners are "beneath" her.)
Some of the factors that create this unsettling nature spring from how closely Wonder Woman's character parallels that of the Greek goddess Nemesis.  Nemesis was the daughter of Night, which places her in the realm of the mysterious and unaccountable.  We have come to treat nemesis as a negative force, but she wasn't such originally.  She was all about keeping things in proper balance.  She made sure virtue was rewarded and injustice was brought to balance.  She is, in fact, the figure of Justice we see in courts these days; blind-folded for impartiality (she doesn't care about your social status), holding both a sword and a balance scale — and she will use that sword to help put the scales in balance.  Nemesis is very unsettling — and Wonder Woman, for similar reasons, carries the same effect.
Diana is a "divine hero" — in a community, but not of it, and she brings a boon to society.  We are a bit ambivalent as to whether we want to take the whole of her boon: truth and peace require things of us that are hard to give up.
But one of the other crucial elements that figure in the nature of Wonder Woman is that, unlike Nemesis, she is not a figure of Night.  By nature, with her openness and her commitment to reason and truth, Wonder Woman fits the dynamics of a solar figure.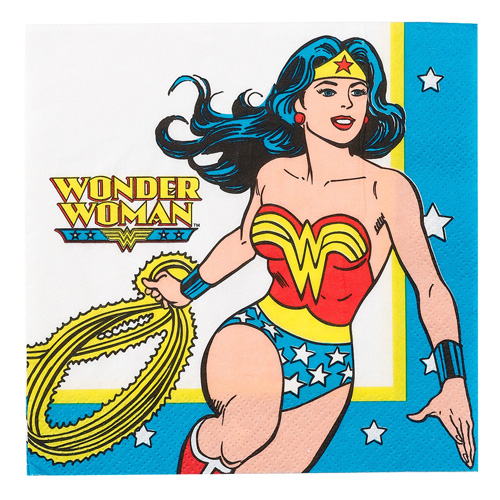 She's "a babe," a confident woman, beautiful and bold.  And yet, Wonder Woman remains difficult to peg.  That is, perhaps, part of her enduring power to fascinate us.  We try to sort her out, to figure what makes her tick, because we don't really want to deal with someone as completely committed to truth and justice as the Amazon princess is.  She's not some wild woman who needs taming, nor some insecure heroine who needs coaching.  She is, as she has always been, Wonder Woman and something more than we expect.
(Wonder Woman images are copyright DC Comics, or their designates; the character is a property of DC Comics.)