Dr. Gregory House has a genius for diagnosing unusual medical conditions..  And he sets about changing illness to health, Transformer figure.  As I say in The Scribbler's Guide, all doctor stories are Transformer stories.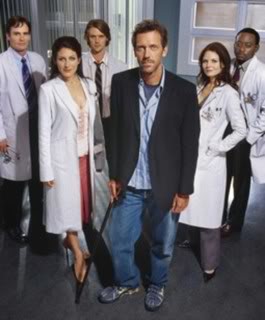 But House is also an example of what I call the "Divine Hero."  Now, this doesn't mean that the Divine Hero has superpowers.  It means that the hero comes from outside the community, bringing a boon to it.  He is in the community, but not of it.
Gregory House is in the community of the hospital, but he is not really of it.  He refuses to conform to the dress code, he is always at odds with Cutty's administration, his only friend is Wilson (whom he regularly provokes).  But the boon he brings to the community is his skill as a diagnostician, and they genuinely value it.  So they keep him.
What makes for the dramatic tension in the show is the fact that Gregory House does not want to be this Divine Hero.  He is a misanthrope, disliking people.  He doesn't really want their praise or appreciation.  His personal conflict is that the one thing he does well, that he loves doing, is the one thing that actually requires him to be in contact with other human beings.
House is just one of the possible ways of using the Divine Hero archetype.  And an excellent, off-beat one.
The characters of House, M.D. are property of the Universal Media Studios (for Fox TV).